Skitouring
Skitouring - If your wish is to be guided in the mountains by a professional swiss mountain guide, contact us today and we will put together the perfect program
Skitouring Steingletscher - day trip
Spring ski- tour, the ultimate time to enjoy the sun and excellent snow conditions off the groomed slopes.
Private tours are available on request
Season
March - May
Requirement
ideal for Intermediate - advanced skiers
Duration
Full day
Start time
4.30am from Interlaken
Save some sleep time and spend the night at the Hotel Steingletscher
Price
CHF 190.- per person all inclusive (minimum 5 participants)
Includes
Transfers, mountainguide and an avalanche transceiver
What to bring
Ski or Board wear, picknic lunch, energy bars, lots of water, suncream, sunglasses and a camera, full skitouring equipment or snowboard equipment
Where to meet
To be confirmed with confirmation details
Free transfers
We will pick you up free of charge from your hotel/hostel in the Interlaken area, or from Interlaken Ost
Safety
All our tours are led by qualified IVBV, UIAA, SBV Mountain guides
---
Skitour -Lötschenlücke - Jungfraujoch
If you want to see the best scenic panorama in the world, you are fit to walk/skin for two to three hours and you love to ski, then come with us

Heres the plan -
Take the first train to the Jungfraujoch. Meet your guide at the cafe bar in the hallway entrance. Ski to Konkordiaplatz.. Skin to Lötschenlücke. There will be a break to picnic on the glacier before we ski down to Blatten.

Season
March 1- May
Requirement
ideal for Intermediate - advanced skiiers
Must enjoy walking aprrox. 2 -3 skitour hours
Duration
Full day
Start time
Take - First train to the Jungfraujoch
Price
CHF 160.- per person all inclusive (minimum 5 participants)
Includes
Avalanche Transceivers and mountain guide
Not included
Train ticket from home to Jungfraujoch return from Blatten
What to bring
Ski or Board wear, picknic lunch, energy bars, lots of water, suncream, sunglasses and a camera, full skitouring equipment or snowboard equipment
Where to meet
Jungfraujoch or to be confirmed with confirmation details
Safety
All our tours are led by qualified IVBV, UIAA, SBV Mountain guides
---
Reservations/Enquiries
SWISS ALPINE GUIDES
Bergsportschule
3800 Interlaken
Switzerland
WhatsApp0041796526000
Tel 0041 (0) 33 822 6000

cool gift voucher idea
Order now. Use immediately
Valid for 3 years
Free extention policy
Flexible payment method
voucher hotline
call 0041(0) 33 822 6000

mail@swissalpineguides.ch
ski touring day trip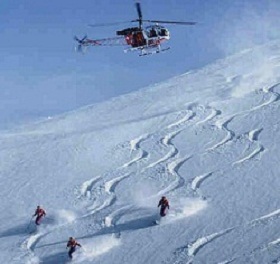 Order your gift voucher for any of our activities
heliski and heliboard
Ebnefluh (3900m) n Petersgrat (3200m)
2 helicopter flights
Powder run = a grand total of 35kms
CHF 390.- all inclusive